Introduction
The Medalerts Search Form: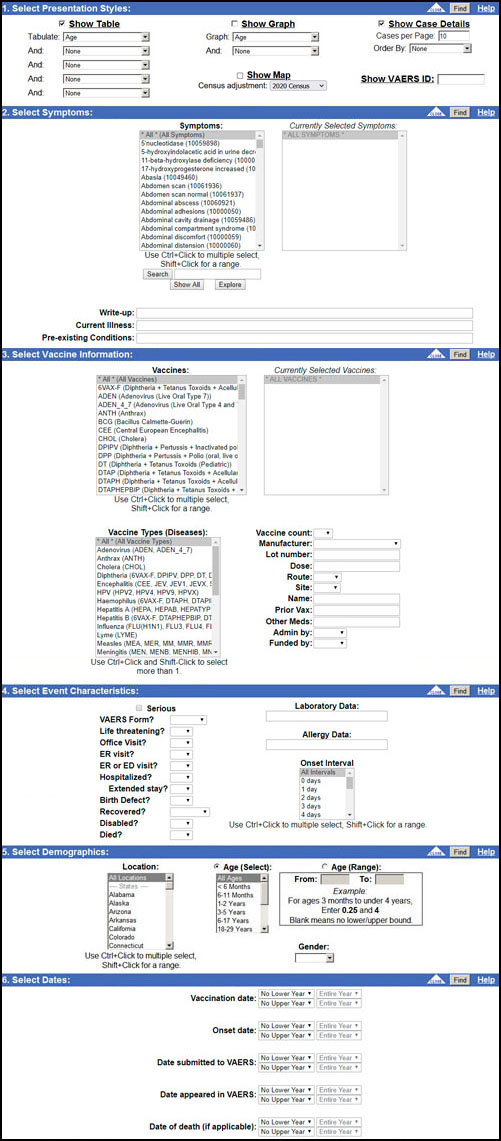 There are two steps to doing a search of VAERS: choose a set of cases, and present the results. The default is to choose all cases in VAERS, and to produce two presentations: a Table by Age and Case Details. To see this default search result, go to the Search Form and click any "Find" button without making any other changes.
VAERS has millions of injury reports, called Cases. Each Case has dozens of fields that describe the injury in different ways. Examples of fields are:
Symptoms: a description of what happened to the patient.
Vaccine given: including its Manufacturer, Dose, Lot Number, etc.
Demographics: age, sex, and state of residence of the patient.
...many other fields are in the U.S. Government's data.
Section 1 of the search form lets you select how the chosen cases will be presented. You can choose tables, graphs, maps, or even the raw Case details.
Sections 2-6 of the search form let you determine which cases will be chosen for presentation and which will be ignored. By default, all of VAERS is chosen, but there are many ways to limit the search.
The Examples page shows some sample searches to give you an idea of the power of the search engine.
Although not for the timid,
Expert Mode
offers advanced search facilities. You can learn about
Expert Presentation Styles
and
Expert Case Choosing
. In addition, there is a special section on
Expert Symptom Handling
.