December, 2014: Yearly wrapup
Another year of VAERS data has been published by the government, so it's time for a yearly wrap-up. As I do every year, I will look at the number of VAERS cases that have been posted since the start of the program in 1990. The search is simple: a Graph of Year of Appearance (the year in which a particular VAERS case appeared in the data):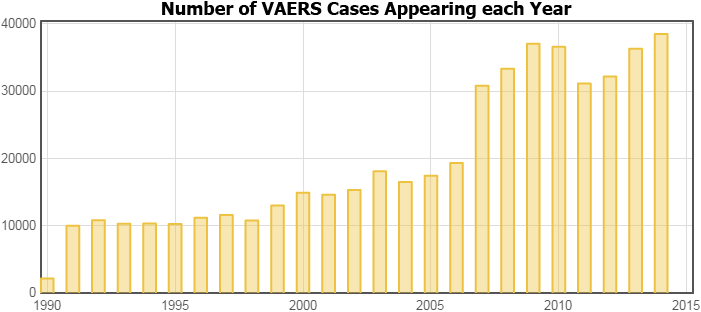 Last year saw the most number of VAERS cases, 38,519.
Vaccines are a hot topic right now, with Measles suddenly in the news. Many people ask what sort of vaccine injuries are associated with that vaccine. A more appropriate question is to look at all of the childhood vaccines that are being written into law by many states. So let's take a look at them.
We will make a graph of the vaccines for childhood diseases, and will only consider cases involving children (18 years old or younger). And in the interest of eliminating insignificant VAERS cases, let's only consider those that are considered to be "serious" (i.e. the patient was hospitalized, disabled, had a life-threatening reaction, or died). To do this search, make a Graph of Vaccine Type. In Section 4 (Event Characteristics), check Serious. In Section 5 (Demographics), check Age (Range) and in the To: field, enter 19. The graph looks like this: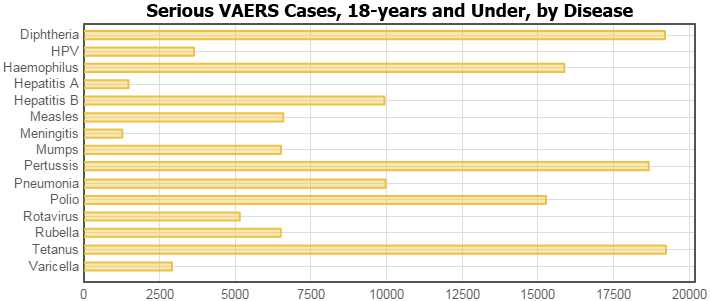 Measles, Mumps, and Rubella (which are almost always given in a single MMR shot) all report the same number of Serious cases: 6585. How does this break down? For VAERS reports involving the administration of a measles-containing vaccine, there are 4918 cases involving hospitalization, 1153 involving a permanent disability, 992 that were considered to be life threatening, and 301 that ended in death.
Now before everyone starts to claim that 301 people died from the Measles vaccine, let me clarify some of this data. First of all, this is a search of the entire VAERS database, going back 25 years. Secondly, it is impossible to state that these people died from the Measles vaccine, both because the shot that was given had Measles, Mumps, and Rubella serums in it, and also because many children who got the MMR shot were also given other childhood innoculations at the same time. Therefore, you can't even say for sure that the MMR shot was associated with the reported death. Thirdly, you cannot add up all of these bars and state that it is the number of affected children. This is because many people got multiple serums and shots in a single office visit, and then have a serious outcome. The actual number of different VAERS cases that are Serious and involve 18-year-olds or younger is 38,411 and the number of deaths involving these children is 3,737 (these two figures apply to all vaccines in VAERS).
So what does this mean? People on both sides of the vaccine issue will want to know how to use these results. Those who are against vaccinations will look at the thousands of vaccine injuries associated with the Measles shot and claim that it is a dangerous. They may well be incorrect because the VAERS system has a number of limitations (see my February, 2012 blog entry) and you cannot draw scientifically sound causal conclusions from only VAERS data. However, those in favor of vaccinations who claim that they are perfectly safe will also be wrong, because many people suffer injuries and die following vaccinations. Some of them are even compensated by the National Vaccine Injury Compensation Program, a court that rules on vaccine injury causality and which, to date, has paid out over three billion dollars.